FOR SALE: 1925 Bungalow Under $500k
FOR SALE: 1925 Bungalow Under $500k
A craftsman-style single-family bungalow in North Arlington for under $500,000 is definitely something of note. Currently owned by an investment group, the property doesn't have a great deal of information being offered about it. Located at 2116 North Culpeper Street it is MLS# AR8264094. It has been on the market for just over a month and is listed at $449,000.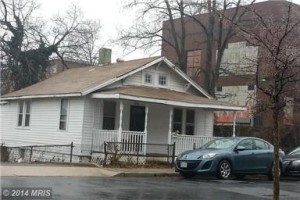 This little house looking for its next owner is a typical two-bedroom, one-bath bungalow at about 750 sf of living space. It sits on a 4,350 sf lot. Located in the Hall's Hill (aka Highview Park) neighborhood, it is not only adjacent to the Langston-Brown Community Center and Park but also to the highly rated Heidelberg Pastry Shoppe.
There are no additional pictures or information available. Contact your realtor about MLS# AR8264094.
On occasion, Preservation Arlington will highlight unique historic houses that are on the market in Arlington County. We hope to raise awareness of some of the true housing gems we have here. Some might be in great condition and just need to be maintained by their next owner, while others may need a steward with heart and passion to restore and stabilize the property. These are not commercial listings or endorsements by Preservation Arlington.