UPCOMING SPRC MEETING: Key Boulevard Apartments
UPCOMING SPRC MEETING: Key Boulevard Apartments
The Arlington Planning Commission's Site Plan Review Committee (SPRC) will hold its first meeting to discuss the proposal for the redevelopment of the Key Boulevard Apartments, located at 1537-1545 Key Boulevard. The agenda for this meeting includes an informational presentation, a discussion of the land use and zoning issues, and the justifications by the applicant for this proposal.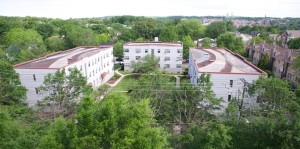 Preservation Arlington highlighted this project in a recent post about existing site plan proposals that impact important historic resources. Built in 1943, Key Boulevard Apartments are a nearly perfect garden apartment complex with all the right details and scaling. The unused density for this site has already been incorporated into the Atrium Condo across the street.
The applicant is proposing a TDR (Transfer of Development Rights), moving density from a historic garden apartment complex in Ballston to facilitate the demolition of this garden apartment complex. The Key Boulevard Apartments are listed as "Important" in the County's Historic Resources Inventory, adopted just three years ago.
This is an important project and one to pay attention to in the coming weeks.
DATE: Monday, March 24, 2014
TIME: 7:00 – 8:25 p.m.
PLACE: 2100 Clarendon Boulevard
Courthouse Plaza, Cherry and Dogwood Meeting Rooms, First Floor
Arlington, VA 22201