For Sale: 1880s Victorian in Glencarlyn National Register Historic District
For Sale: 1880s Victorian in Glencarlyn National Register Historic District
It isn't often that a home from the 1880s comes on the market in Arlington. Located in one of Arlington's oldest residential neighborhoods, Glencarlyn, this historic Victorian farmhouse is full of period detail & charm. From the covered front porch, walk-in window alcoves, pine hardwood floors, a formal parlor, tin ceilings and the fixed stairs that lead to a usable attic with flooring and windows. The 3 BR 2 BA home sits on a 6,000 sf lot, which includes the restored original pony barn and mature boxwoods. Located at 5729 2nd Street South, 22204, it is listed for $829,000, click here for the full listing.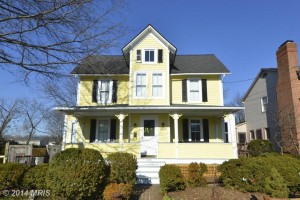 The Schaaf House is listed with the state as a Queen Anne c1895 house (County tax records indicate it is c1880) and is a contributing structure to the Glencarlyn Historic District. The nomination prepared for the historic designation describes the house as:
This two-and-a-half-story, wood-frame dwelling is distinguished by its three-story, center tower projection at the front, a full-width, hipped roof front porch with chamfered posts and scrollwork brackets, and flanking side wings adorned with eave brackets. The house is three bays wide with the centered entry placed in the tower. The side gables are adorned with cut rafter tails.
The Glencarlyn community is full of history. Around the corner from this house is the 1892 Carlin Hall, built by the Carlin Springs Cooperative Association as a community building and transferred to the County in 1962 and still used as a community center. The Ball-Sellers House is in the next block and it is the oldest house in Arlington County. The c1750 house is a rare example of a working mans house of that era. The original section consist of the log cabin and one-story frame structure. A two-story wing was added to the original structure in 1885. The Arlington Historical Society owns the Ball-Sellers property and conducts tours and educational programs April to October.
For more on the designation of Glencarlyn as a historic district, you can download the National Register of Historic Places nomination.
A true historic gem that is from the late 1800s awaits its next steward.
On occasion, Preservation Arlington will highlight unique historic houses that are on the market in Arlington County. We hope to raise awareness of some of the true housing gems we have here. Some might be in great condition and just need to be maintained by their next owner, while others may need a steward with heart and passion to restore and stabilize the property. These are not commercial listings or endorsements by Preservation Arlington.