The Washington Post on Historic Housing Styles
The Washington Post on Historic Housing Styles
Today's "Home and Garden" section of the Washington Post has a handy feature on identifying your home's architectural style.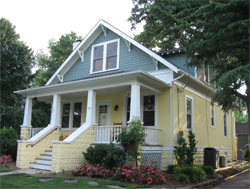 The article references Arlington's Ashton Heights neighborhood and describes the main character-defining features of the bungalow, Victorian, Colonial revival, Modern, ranch, and other types of houses in our area.
NOTE: The Ashton Heights Style Guide, published in collaboration between the neighborhood's Conservation Advisory Committee, the Historic Affairs and Landmark Review Board, and the Arlington Heritage Alliance (Preservation Arlington's former incarnation), is also an excellent reference about historic housing styles in Arlington.